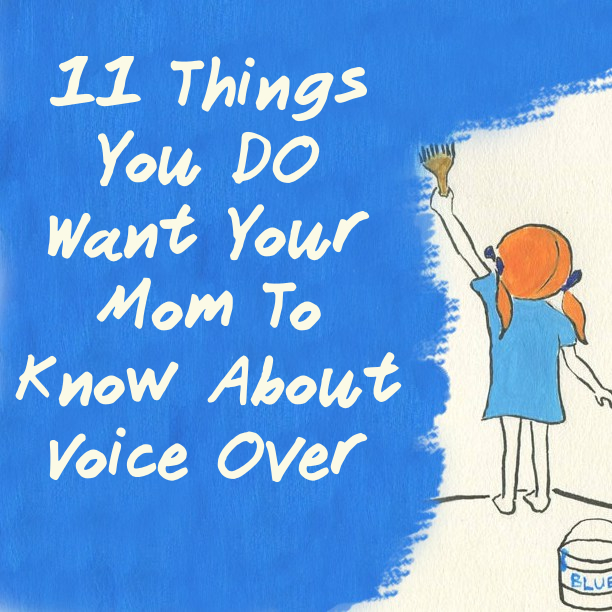 Last time, I spilled the beans about the 11 Things You Don't Want Your Mom To Know About Voice Over.
I hope you and your mom stuck around long enough to hear the good news about my career in voice over.
Because the good news is VERY good news.
Here are the 11 things you DO want your mom to know about a career in voice over:
1. The voice over job opportunities are endless.
This is exciting. Seriously. The voice over job opportunities are endless… from the booming audio book industry, to the rising popularity of online explainer videos, to the emerging video platforms popping up left and right… voice over job opportunities will keep on coming. As technology moves forward, new opportunities will present themselves which is really what excites me. Yes, there is the possibility of there someday being artificially intelligent voices that capture all of the subtleties and nuances of the human voice perfectly, but until that day, I am feeling very confident about the job prospects.
2. There is no ceiling as to how much money I can make.
This is always an attractive feature for those looking into voice over. While it is most definitely NOT easy to make a living doing voice overs, there is the possibility of making a lot money. Unlike traditional, salaried positions where you have to make a case for a raise every review period, as a non-union voice actor, I can work as much as I want to make as much as I want. The only limit is the amount of hours there are in a day and how much time I want to spend doing it. There's even one voice actor who books up to 20 voice over jobs a day. This is not the reason I became a voice actor, but it is definitely a perk.
3. I have a gosh darn flexible schedule.
You know how your mom always wants you to come home for holidays and for special events, but you just can't seem to get off work? Well, as a professional voice actor with my own studio and equipment, I can take the show on the road and record for clients using my travel recording gear. In fact, if I plan enough in advance or even if I'm in a last second pinch, I can reach out to other voice actors around the country to see if they'd be willing to let me use their studios. I had to do that recently. (Thanks again, Andy.)
4. I meet people from all over the world.
Last week, I talked about spending a lot of time in a small, black box. It is true, but as a professional, non union voice actor,  I have the freedom to work with people from all over the world. Because of that, I get to meet people from all over the world via Skype, on the phone, or even in person. Just recently, I recorded a voice over for an explainer video for a company in Copenhagen, Denmark. Hmm… You could even say that I am international businessman. You know what's even better? I don't have to fly to all of those places to do business with them. I get to do it from the comfort of my professional voice over recording studio.
(photo by Ivan McClellan Photography)
5. I get to choose my boss(es).
While I am my own boss in my own company, I have many bosses all over the world who hire me to voice their scripts and projects. However, if a client is just not working out for some reason or another or is treating me poorly, I can cut ties and move on. Because of all the opportunities I talked about before, it is not worth my time to work with clients who don't treat me with respect. I think your mom would be very proud of me for standing my ground.
6. I can live pretty much anywhere I want.
This is one of my absolute favorite parts of the job. I can truly live anywhere I want (that has an internet connection). I don't need to be in LA, NYC or even here in Minneapolis, Minnesota to make a good living as a voice actor. I have a semi-portable voice over recording studio that I can take apart and bring with me wherever I go. I actually drove round trip in 1 day from Minneapolis to Milwaukee back to Minneapolis when I bought it in the first place. All I needed was a U-Haul.
7. Voice over clients come back and hire me again and again.
While it is true that voice over clients don't ever have to hire you again, many do. This is really the foundation of a successful voice over business. It's up to me to give my clients the read they want and a professional, carefree experience when they hire me for their projects. If I successfully accomplish that and consistently stay in touch with them, I have put myself in a great position to work with them again. It's all about creating a smooth working relationship so that when a project rolls around that calls for a young, trustworthy, lower pitch, twenty something sound, my client is 100% confident that my voice is right for it and that I can do a great job in the process.
8. I am the CEO of my own company.
I bet your mom would be pretty proud of you if you became the CEO of a company. Well, check it out. I've made the big time! (sort of) No, I'm not the CEO of a huge company like Target or Best Buy, but I am in complete charge of my own company. This is an amazing opportunity, because I get to decide the direction of my company and what I want and need to do to make it grow… like write this blog for you!
9. I challenge myself every single day.
Moms are very proud of us when we challenge ourselves. They want to see us do well, but they also don't want us to take the easy (and sometimes lazy) route. As a professional voice actor, I have not chosen the easy route. It's a challenge each and every day. But that's what makes it so exciting and rewarding! Every day, I wake up wondering what opportunities and challenges will present themselves and do my best to tackle them head on. It can get scary, but seriously, it really is rewarding.
10. I succeed.
Last week, I talked about how I fail…a lot. Well guess what? I succeed, too. Booking voice over work is the ultimate success in this industry, but I also succeed in making new and interesting connections, learning how to successfully run a business, and learning how to better perform and complete all the different voice over projects and scripts that are out there. All of the failures make the successes feel that much better. I am sure other voice actors can attest to that. Plus, I've also developed a thicker skin than I used to have before I started doing voice overs which makes pushing for those successes a lot easier.
11. I am happy.
If there's one thing I know about your mom, it's that the thing she wants above all else is for you to be happy. Well, I'm here today to tell you that I am happy about the path that I've taken. Life is about working hard to make your dreams a reality. It's idealistic, but I really believe that. I'm happy with where my voice over business is today, but I know it is not where I want it to be yet. I don't know what the future holds, but as long as I'm working hard to make it happen and am happy along the way, the destination probably doesn't matter.
So there you have it. Unlike the bad stuff, there are some really flippin' awesome things that you DO want your mom to know about voice over.
What are some really cool things about your career path that you want your mom to know? After you tell her, I would love to hear it too in the comments section below.
Thanks for reading, commenting and sharing!