"One of the best young voice actors I've worked with in a long time."Joe Flood, Audio Engineer, Porsche
Recent happy clients: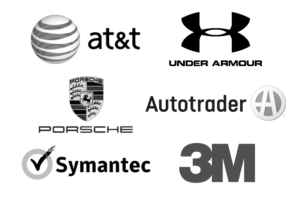 ---
---
---
Here's What John Brings To The Table With His Voice Over Services
Experienced Male Voice Actor
John has been a full-time voice actor for over 8 years and has voiced thousands of projects for many of the top brands around the globe.
Broadcast Quality Voice Over Studio
John produces crystal clear, broadcast-ready audio files from his acoustically treated voice over booth and studio. The files are ready to be placed right into your project – no tinkering necessary on your end (unless you want to).
Remote Script Direction
You can also direct John from the comfort of your own home or office while he records your script in his booth: phone patch, Skype, Source Connect, ipDTL, and more.
No Fuss Voice Over Cost
How much does a voice over cost? Get clear, up front cost information after you answer a few easy and basic questions.
---
Note from John
---
Hey there,
Thanks for stopping by my voice over website. It genuinely means a lot to me.
When I started out full-time as a male voice actor in 2012, I thought my job was to just be a voice in your commercial or video and that was it. Piece of cake.
I was dead wrong.
8 years later and I've learned that in order to succeed in this business, I need to be your business partner and problem solver first and voice talent second.
You have unique problems and needs and it's my job to help you find the appropriate solutions, whether that solution is my voice or something else.
So, how can I help you today?
I'd love to meet you via email or over the phone (people still talk on the phone, right?) and answer any and all questions you have about your project and how I may fit in. I also have a voice over FAQ page where you'll find the answers to a lot of your questions.
Curious about my voice over rates?
No problem! I have all the answers to your voice over cost questions here.
Want to see or hear any of my recent work?
You can watch a lot of my recent projects in my voice over portfolio here.
Want an inside look at my studio equipment and capabilities?
Read all about my voice over studio equipment and capabilities here.
Thanks again for stopping by and I can't wait to meet you!
All the best,