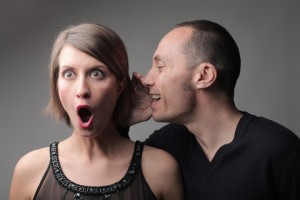 "Justin Bieber Deserves A "Spanking," According To Metallica's Manager! Quote Of The Day!"
"The Kardashian-Jenners Spend Easter At Church! Time To Pray Together!"
"Harry Styles Is Going SOLO! Is This The END Of One Direction?!"
Yes, these are real headlines from real websites and publications. It's the world of celebrity gossip and tabloids. They are ridiculous and painfully inconsequential news stories that we really shouldn't care about but so many of us do. Heck, I even follow Perez Hilton on Twitter to feed my pointless celebrity gossip fix. It's a guilty pleasure. So sue me.
"Man With Strong Brand Loyalty Willing To Kill For Mazda"
"Businessman Does His Work Lying On Bed Like Schoolgirl"
"University With 20,000 Applicants To Choose From Somehow Goes With Caitlin"
These are some headlines from The Onion: America's Finest News Source. These stories are made up, hilarious, satirical and oftentimes have very honest undertones.
I had an idea.
I posted an update on my voice over business page jokingly questioning why we don't read any voice over gossip and news. We are quite an anonymous bunch (for the most part), so why don't we just make up some fake voice over gossip and news about recording sessions, talent agency stuff, recording equipment and anything else voice over related? It might be fun and will probably be really funny.
So I took to Twitter and started writing some #fakeVOgossipheadlines about anything voice over related and gossipy. I know that the voice over community is filled with some very creative people, so I was hoping other people (in the voice over world and beyond) would submit their own #fakeVOgossipheadlines on Twitter and anywhere else so others could see their creativity and humor.
You are hilarious.
The ideas started coming in. Fellow voice over talent Derek Chappell especially liked the idea. He supported my drive to write more and to even "publish" some in an "Onion-like" way. I decided to start "The Fake VO Gossiper." Derek described it well in a recent blog post, but I will try to explain it here too. It's basically a fake newspaper with daily, made up headlines. The clipping has the headline, the date, and who wrote it. So every day for the past 1.5 weeks, I have been publishing some hilarious #fakeVOgossipheadlines other people in the voice over community have submitted via Twitter, The Fake VO Gossiper Facebook and Pinterest pages and e-mail at John@VoiceOverGenie.com. Here are some examples from the past week and a half:
I need your help.
I have been getting some hilarious ideas from people in the voice over community (VO talent, engineers, producers, etc.) and beyond, but I need more from you. I am fine with coming up with some of my own, but honestly, I'm not as funny as I think. Plus, I would LOVE to just publish ideas and headlines from other people like you. This is a great way for you to show off your funny bone and personality as well as some possible underlying frustrations (like Derek's headline about ISDN costs).
Here's how you can help.
-> Tweet your headline ideas @JohnLano (me) and use the hashtag #fakeVOgossipheadlines. I will be sure to retweet the ones that I get as well as "publish" some of the best ones to Facebook and Pinterest.
-> You can also send me your ideas through The Fake VO Gossiper Facebook and Pinterest pages. Or, you can e-mail your idea to John@VoiceOverGenie.com.
Where to find "The Fake VO Gossiper"
-> Facebook page at https://www.facebook.com/TheFakeVOGossiper.
-> Pinterest board dedicated solely to the headlines
-> Twitter page with daily headlines
-> Subscribe to this blog on the upper right hand side to get weekly updates of the week's headlines
What are some #fakeVOgossipheadlines you have? I challenge you to write your own in the comments section below, and I will "publish" some of the best ones in the daily "The Fake VO Gossiper."
I can't wait to read your ideas!