Twitter is my favorite social media platform. You can see that by reading my tweets here: here.
It's a super fast, non-stop onslaught of information, ideas, opinions, and conversations.
Unlike Facebook, people can share content throughout the day without being annoying to their followers. That's because a Tweet only "lives" for a few seconds. On Facebook, if you share more than 2 or 3 things in a day on your Facebook business page or even your personal page, you can be annoying, unless the information you're sharing is super useful and/or entertaining. Even then, it can feel spammy.
So what makes a good voice over Twitter feed?
The voice over Twitter feed tweets (almost) daily. – If the Twitter feed is inactive or shows little activity, there's really no point in following it. It's a "What have you done for me lately?" mindset.
The voice over Twitter feed tweets about voice over (or something closely related) most of the time. – While I do want to hear about voice over, it can sometimes get pretty dry if that is the ONLY thing the feed tweets about.
The voice over Twitter feed is professional but actually shows glimpses of personality and "realness." – Yes, the Twitter feed needs to have Twitter etiquette and professionalism, especially if it represents a brand or business entity; however, there are real people behind those accounts. I want to feel that.
The voice over Twitter feed shares other peoples' content, not only their own. – Nothing is worse than constant, obvious self-promotion. Some self-promotion is important, but it is a slippery slope. Paul Strikwerda is the king of veiled self-promotion. He talks about it in answer #3 here. If the Twitter feed shares other peoples' valuable and useful content, it will be seen as both generous and as someone who "gets it" when it comes to the content it is sharing. This positions the Twitter feed as an expert in the field.
The voice over Twitter feed actually HAS its own content to share (blog, video, opinions, etc.). – Content curation is a wonderful thing, but what does the person or brand behind the Twitter feed have to say?
The voice over Twitter feed joins in conversations that occur on Twitter and responds to followers. – Twitter is a giant conversation. Last I heard, a conversation involves more than 1 person to talking to him or herself.
The voice over Twitter feed isn't a Twitter "troll." – Trolling on Twitter is never going away. Basically, trolls are Twitter bullies who think because they are behind some sort of online platform and not face-to-face with others, they can say whatever they want. Now where's that unfollow or block button?
Disclaimer: I don't follow EVERY voice over Twitter feed, but I follow a lot. From that list of "a lot," these are the feeds that spew value into the Twitter stream and follow the criteria above.
BEFORE you read this list, let your own Twitter followers know what you're up to. Simply CLICK the following sentence to tweet it out: Tweet: About to read @JohnLano's list of 10 #voiceover Twitter feeds you'd be crazy not to follow. We'll see if he's right. http://ctt.ec/i29mC+.
10 Voice Over Twitter Feeds You'd Be Crazy Not To Follow (in no particular order and UPDATED)
Lisa is an adult, professional voice actor who can deliver a kid's voice. Seriously, it's pretty amazing. Her Twitter feed is pretty amazing, too. Based on her activity within the social media world, I can tell that she is pretty dang energetic. It's contagious. She shares awesome content, especially through Voxy Ladies, is funny, and is not afraid to be herself. Her Twitter feed is a must follow.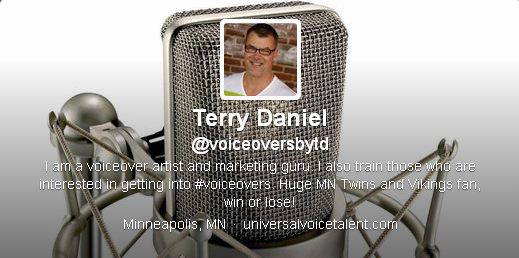 Terry is a professional voice actor and coach (I worked with him!) based out of Minneapolis, MN (me too!). Terry is not afraid to speak his mind. At the same time, he does it respectfully and for good reasons. He shares his own valuable voice over content and tidbits but also joins in the Twitter conversation with others about their content or ideas. His Twitter feed is a must follow.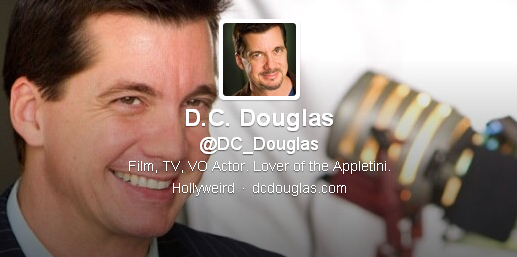 D.C. is a professional TV, film and voice actor living in LA. If you're looking for funny and controversial, DC is your guy. He not only tweets about his voice over escapades, but he also injects LOTS of personality and humor. He's not one to share lots of articles or content, but his insights and humor make up for that and show how voice over should be fun. His Twitter feed is a must follow.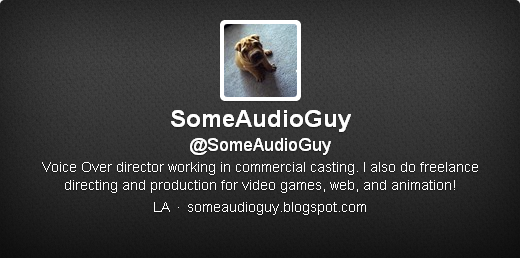 Juan Carlos Bagnell is a voice over director working in commercial casting. His Twitter feed is filled with information on recording equipment, insider tips and tricks for voice over professionals, and other juicy insider info about the voice over industry. He also has great content on his blog.The best part about Juan Carlos is that he responds to his followers, even though he has a pretty big following. His Twitter feed is a must follow.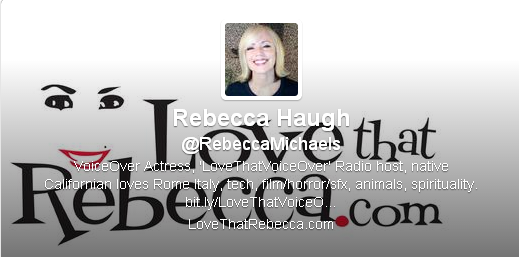 Rebecca is a professional voice actor and avid podcaster/radio host. She shares some very insightful info about voice over, marketing, acting and beyond. One of the best things about Rebecca is that she lets her personality shine through in her tweets, her voice over podcast, and all of her other content. She seems to really love what she does, and that is refreshing in a Twitter feed. Her Twitter feed is a must follow.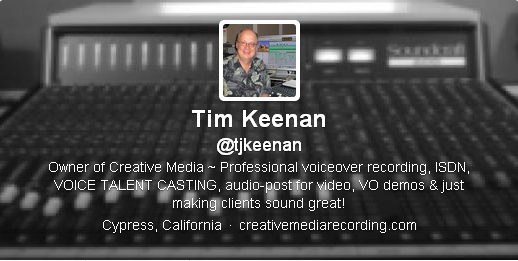 Tim Keenan is the owner of Creative Media Recording (CreativeMediaRecording.com) which is an awesome audio recording and sound design company. He works with voice talent daily. His Twitter feed is great because he offers that "other side of the glass" audio perspective while also sharing some really frickin' useful content. He tweets daily, and the information he shares is always interesting. His Twitter feed is a must follow.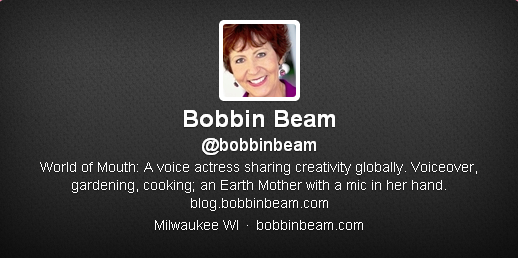 Bobbin Beam is a professional voice actor and adamant blogger. If you haven't read her blog, do it now. Her Twitter feed is just as filled with good content. She shares wonderful articles and tidbits that are great for entrepreneurs, marketers, and voice actors. She also joins the conversation. Woot woot! Her Twitter feed is a must follow.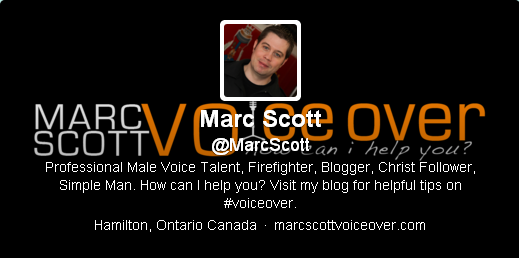 Marc Scott is a professional voice actor and volunteer firefighter. I also like to consider him a Twitter pro. He gets it. He shares the perfect blend of his own content from his blog with the content of others in the industry. He joins the conversation with other VO pros and is very deliberate and careful with that retweet button. But when he hits it, he nails it. His Twitter feed is a must follow.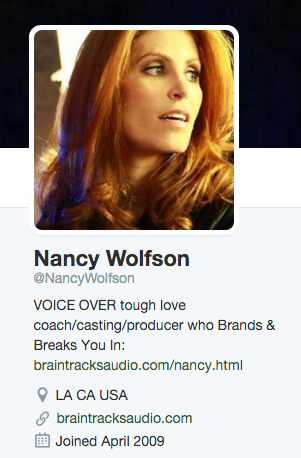 Nancy Wolfson is a straight-talkin', cut the BS, voice over golden nugget filled (that sounds weird…) coach and casting director. If you want a legup in the social media, VO, and advertising world, I strongly suggest you follow her on Twitter and then head over to her website right now and purchase "How To Monetize Social Media for VO". I've booked several gigs by following this one audio seminar (of her MANY seminars). Oh AND she directed and produced my commercial VO demo. Can you tell I'm a fan? Her Twitter feed is a must follow.
Heather is a new addition to this list. And for very good reason. Her Twitter feed is jam, freaking PACKED with useful voice over, marketing, advertising, and SEO information. I get exhausted trying to keep up with all the new gimmicks and trends in the marketing world. Thankfully, Heather does it for me! Plus, she is super friendly and interactive which is rare in this cynical social media world. Her Twitter feed is a must follow.
Honorable Mentions:
Trish Basanyi (@TrishsVoice), Peter K. O'Connell (@audioconnell), Rose Caiazzo (@JacksonHoleRose), Anne Ganguzza (@aganguzza), Dave Courvoisier (@CourVO), Jordan Reynolds (@JordanReyn), Tara Strong (@TaraStrong), Paul Strikwerda (@Nethervoice), Derek Chappell (@DerekChappell)
Before you go, I have 2 questions for you…
What is your Twitter handle?
and
Who is missing from this list?
I would hate to miss out on some awesome Twitter feeds. And as someone who has kindly read my blog, I would love to follow you on Twitter to see what you are up to. So be sure to leave those answers in the comments section below.
p.s. Thanks for reading! For more free content like this, subscribe on the upper right hand side of this page.