Or does it make more sense to say…
Why I voice act?
I don't know how to say it. "Do voice over" is a weird phrase.
Basically –
Why I do what I do for a living.
In case you missed it, I wrote about following my dream of voice over after college in a previous post you can read here: https://voiceovergenie.com/is-it-too-early-to-follow-your-dream/.
I went into more detail about what surrounded my initial dive into voice over, but for this post…
I want to talk about why I do voice over today.
Life changes a lot over time. And the reasons you do what you do for a living change as well.
So let's go over the 5 main reasons I do voice over today…
---
To provide for my family
---
When I first started voice over, I was doing it out of a spare bedroom in my parents' house. I had a girlfriend at the time (now my wife), but my financial responsibilities were limited, to say the least. (oh the days of being on your parents' health insurance)
Today, I have a wife of nearly 6 years, a 6-month old baby boy, a mortgage, health insurance costs, retirement savings, garbage bills (such a boring bill to get), and much more. Oh and a dog! Can't forget Riggins (pictured below).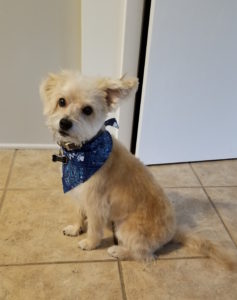 I treated this endeavor seriously when I first started, but today, it is and must be on another level.
---
To act
---
Many people consider animation work to be the only version of voice "acting" but I highly disagree.
Yes – animation work requires a different and difficult skill set. However, my first VO love is commercial work (TV, online, and radio ads) and that is a performance craft in and of itself.
I've always loved performing. Performing a commercial voice over script is its own kind of performance – breaking down the script, finding the tone and emotion the copywriter is seeking, and adding my own style to it.
Here's some embarrassing fun from college when I performed "Hallelujah" with my a cappella group (skip to 0:17): 
---
To be flexible
---
Flexibility is something I will never take for granted as a self-employed person.
Don't get me wrong. I treat this job and career like a full-time job. But the flexibility is a very real benefit.
Do I wish I could sometimes have paid time off, benefits, and a 100% knowable yearly income? Sure. But where's the challenge or flexibility in that?
This allows me to watch my son once a week and to take on some other responsibilities in my family that I wouldn't otherwise have the flexibility to do with a normal 9-to-5.
It also gives me limitless growth opportunities in voice over.
---
To close for my clients
---
Voice over is almost always the final piece added to a project. I don't know what it is, but I've grown to love that role.
The client has put in countless hours and dollars into their project and they're just about ready to ship the final piece to their client (or maybe it's their own project). To be able to add that finishing touch is surprisingly, yet incredibly, satisfying. It never gets old.
Click

HERE

to watch me close for some of my favorite clients.
---
To land the "big one"
---
Voice actors are always auditioning and working toward that next project, that next opportunity.
And sometimes – it's a big one.
I've had a few of those big ones so far in my career (voice of Bixby on Samsung phones, narrator of national TV shows, national voice of a brand, etc).
Here's one of the many ads I voiced for Autotrader as their national brand voice:
But I'm always targeting more every day. Here are some examples:
Nature documentary like "Planet Earth"

Campaign voice of a Reese's commercial (I LOVE Reese's)

Voice in a big time video game, specifically one I play or have played (PUBG, please)
---
---
There are and always will be more reasons I do what I do, but for now, this feels like a pretty good list.
Why do you do what you do for a living?

Comment below.