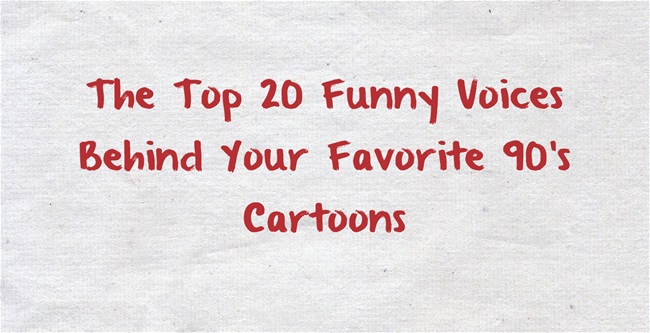 I loved cartoons when I was a kid. I grew up in the 90's, and now that I'm a voice actor, I've come to realize that there are actual PEOPLE behind those awesome characters (many of those people voicing multiple characters). So I've compiled a list of 20 voice actors who voiced many of my favorite cartoons and probably yours too from the 90's. And yes, I know that these people have done stuff since the 90's or even before the 90's and that I have probably left some awesome people off the list. I hope to highlight some more names in future blog posts.
To give a face and name to the people behind these funny voices and characters, I did my best to show a video of the actual voice actor talking about their characters or their experiences voice acting. Unfortunately, not all of them have good interview videos readily available online, so some of them just have clips from some of those awesome cartoons. Dang…we have to watch some cartoons…
In no particular order, enjoy this blast from the past!
20. Charles Adler – Buster Bunny (Tiny Toon Adventures), Ickis (Aaahh!!! Real Monsters), Ed Bighead (Rocko's Modern Life),  and many more
Charles discusses the many characters he has voiced.
19. Jim Cummings – Darkwing Duck (Darkwing Duck), Officer Bonkers D. Bobcat (Bonkers), Winnie the Pooh And Tigger (Winnie the Pooh, late 80's – current) and many more
Jim Cummings talking to the camera, thanking the audience while also doing some of his famous voices
18. Kevin Conroy – Batman/Bruce Wayne (Batman, 1990's – current)
Kevin interviewed about his iconic Batman voice
17. Jaleel White – Sonic the Hedgehog (Sonic the Hedgehog) => I really just loved this show, even though he hasn't done much voice acting beyond it.
Jaleel (Urkel) interviewed about his voice acting experience on Sonic the Hedgehog
16. Townsend Coleman – The Tick (The Tick), Michelangelo (Teenage Mutant Ninja Turtles, late 80's – 90's) and more
Townsend interviewed about his voice acting career and how he got into it
15. Kath Soucie – Linka (Captain Planet and the Planeteers), Mom/Computer (Dexter's Laboratory), Daisy Duck (Quack Pack), Phil, Lil and their mom (Rugrats) and many more
Kath and her fellow "Rugrats" voice cast discuss their characters.
14. Richard Horvitz – Daggett Doofus Beaver (The Angry Beavers), Alpha 5 (Mighty Morphin Power Rangers – not technically a cartoon) and more
Richard interviewed about his voice acting career
13. Christine Cavanaugh – Dexter (Dexter's Laboratory), Chuckie Finster (Rugrats) and more
Christine voicing a scene as Dexter from Dexter's Laboratory
12. Howie Mandel – Bobby's World (Bobby Generic)
Howie doing stand-up talking about voicing Bobby from Bobby's World (Kind of NSFW)
11. Carlos Alazraqui – Rocko (Rocko's Modern Life), Carlos / Chas / Delivery Man (Hey Arnold!) and more
Carlos interviewed about his many voices
10. Paul Rugg – Freakazoid / Paul Harvey / Animal Psychiatrist (Freakazoid!), Mr. Director / Einstein (Animaniacs) and more
Paul voicing Freakazoid in a scene from Freakazoid!
9. Keith David (personal favorite) – Goliath (Gargoyles)
Keith voicing Goliath and also talking about his role in the show
8. Jess Harnell – Wakko Warner (Animaniacs), Fatso (The Spooktacular New Adventures of Casper), Sewer Urchin (The Tick) and various voices on Pinky and the Brain, Recess, Cow and Chicken, and many more
Jess interviewed about his voice acting career while also showing off some of his many voices
7. Tara Strong – Bubbles (Powerpuff Girls), Dil Pickles (Rugrats), Spot / Two-Tone / Vendela (101 Dalmatians: The Series) and many more
Tara interviewed about her voice acting career while also showing off some of her funny voices
6. Jeff Bennett – Johnny Bravo (Johnny Bravo), Dad / Main Title Narrator (Dexter's Laboratory), Lt. Pug / P.H. DeVil / Roger Dearly / Sgt. Tibbs (101 Dalmatians: The Series) and more
Jeff voicing Johnny Bravo in a scene from Johnny Bravo
5. Frank Welker – Bronx (Gargoyles), Suchi / Lead Suit / Tank Flusher III (Captain Planet and the Planeteers), and various voices on Aladdin (TV Series), Bonkers, The Cartoon Cartoon Show, Freakazoid!, The Real Adventures of Johnny Quest, and many more
Frank doing some of his classic animal noises in a voice over recording session
4. Rob Paulsen – Yakko Warner (Animaniacs), Pinky (Pinky and the Brain), Raphael (Teenage Mutant Ninja Turtles), Stanley Ipkis (The Mask) and many more
Rob interviewed about his voice acting career while also showing off some of his iconic funny voices
3. Tress MacNeille – Charlotte Pickles (Rugrats), Dot Warner (Animaniacs), Babs Bunny (Tiny Toon Adventures), and many more
Tress voicing Babs Bunny in a scene from Tiny Toon Adventures
2. Billy West – Stimpson J. Cat (The Ren & Stimpy Show), Doug Funnie / Roger Klotz (Doug), Jeebs (Men In Black: TV Series), and many more
Billy West talking about voice acting and showing off his iconic characters
1. The Simpsons Cast – Dan Castellaneta (Homer), Hank Azaria (Moe Szyslak / Chief Wiggum) and Nancy Cartwright (Bart / Nelson), Harry Shearer (Principal Skinner), Yeardley Smith (Lisa), Julie Kavner (Marge) and more
Major part of the cast talking about The Simpsons on Inside the Actor's Studio